Review on the myQC Campus Portal
It is a well-known fact that nowadays educational institutions have student portals. They are sources that provide needed information to the students to make their study a breeze. But, not all of the portals constantly update their content and have a nice and user-friendly interface. MyQC campus portal is completely the opposite. It contains recent news, renewed academic programs and is always being changed to create a better experience.
All students of QC must be familiarized with the portal to get unlimited access to their academic and administrative details. Through this powerful website you can find:
Course information
Student email
Financial aid
Events
Campus clubs
Online registration
Other pertinent student information
To go to the portal, just click on the link register.quincycollege.edu/ICS or go to the QC website and from the home page, you can get redirected to the portal. In order to log in, you must know your student ID number and you should have received a temporary password via email.
Every class has a web version on Canvas. The myQC portal gives access to this learning system. Besides, all learners have a college email, which can also be accessed through the portal. There is a link to the email on the lift hand side of the student website.
Has a college placed a hold on your record for financial or academic reasons? To find out which department has placed that hold, simply login to the portal and check it out. Also, by the help of this powerful source you can request a transcript, view your grades, or submit an incident.

Contacts of the myQC Campus Portal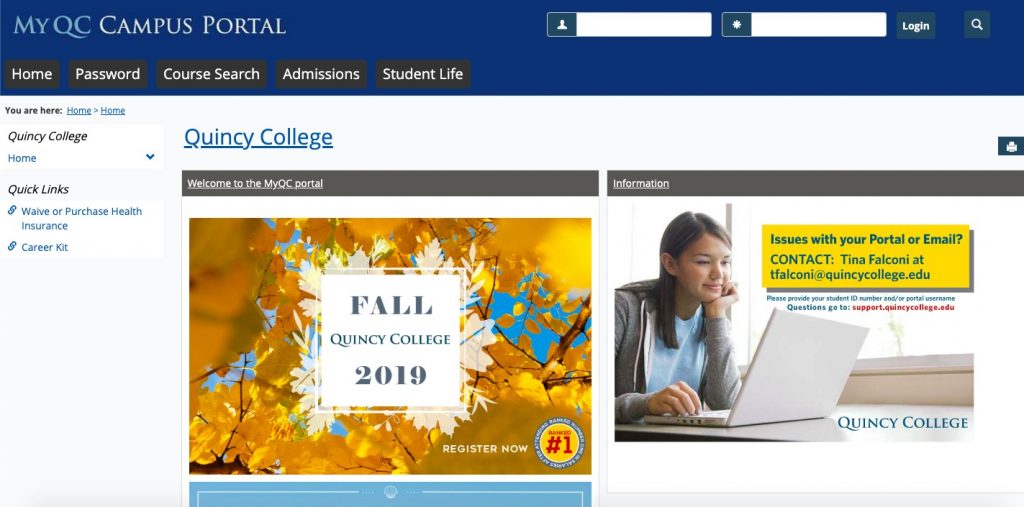 The portal provides such college contact information. Here is a list of what you can find: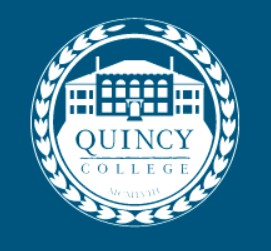 About myQC Campus Portal
MyQC campus portal is a usual student webpage that most of the colleges and universities have. It is filled with the same features. The design is simple and the navigation is easy to use. It is very easy to spot the needed information and not get lost in the middle. Isn't it great that you can access all your educationally related information on one website, without the need to go anywhere and ask anyone the needed details?
At the top of the website, you'll see a window for logging in. A bit lower there are tabs that can bring you to the needed section of the portal. Such tabs are located there: home, password, course search, admissions, student life. For example, under the tab Admissions, you'll find your active applications, various online forms, a place where you can request information and ask admissions tool. Looking for quick links? Well, they are conveniently located on the left-hand side of the webpage.
Having trouble with the portal? Under the Student Life tab, you can spot a student handbook which has useful instruction on how to use the portal and a lot more.
Program Description of Quincy College
QC is an accredited higher learning establishment that offers 36 associates programs and 25 certificate ones.
Here is a list of the associate degree programs:
Accounting
Biology
Biotechnology
Business
Computer Science
Criminal Justice
Early Childhood Education
Elementary Education
Engineering Technology
English
Exercise Science & Personal Training
Fine Arts
Visual Arts
General Studies
Healthcare Administration
Human Services
Humanities
Mathematics
Medical Laboratory Technician
Natural Science
Paralegal Studies
Physical Therapist Assistant
Psychology
Security Management
Social Sciences
Sociology
Others
You can earn a professional certificate is such areas:
Accounting
Computer Science
Criminal Justice – Law Enforcement
Customer Service
Early Childhood Education
Entrepreneurship
Game Development
Healthcare Administration
Human Services
Insurance Career
IT Fundamentals
Practical Nursing (PN)
Security Administration
Substance Addiction
Surgical Technology
Web and Mobile Development
Others
Also, there is a possibility to study online. You can choose from business or criminal justice.
About Quincy College
QC is a public community educational establishment located in Massachusetts. It was founded in 1958 and now is a two-year college that serves around 4,500 learners at campuses in Quincy and Plymouth. In 2017, they received the right to confer 4-year degree programs. Now, the establishment is in the process of creating their baccalaureate programs.
Quincy College is an unusual institution because it is run by the city and not the Commonwealth of Massachusetts. Only 2 colleges in the US are this way, and QC is one of them.
The college provides its learners with such services – academic advising, athletics, bookstore, career services, and placement, financial aid, information technology, international student services, library, registrar's office, student accessibility services, success coaching, tutoring services, veteran and military services, and others.
QC's goal is to provide opportunities to develop skills not only in the classroom but also outside. There are various clubs and organizations to choose from. Besides, any student can start his own club/organization. Check out the Student Handbook in the portal for more details. You can decide to join such clubs – drama society, business club, French club, guitar club, human services mentorship program, wellness club, and others.
Reviews for Quincy College
Most of the students that went to QC say that they liked it there and that they definitely recommend it. The teachers were very easy to talk to and friendly. They have a pretty good way of teaching to help the students understand everything before you leave the class. Moreover, they help with all of your school stuff. The workers of the Admissions Office and Financial Aid facility are top-notch and always guide through the whole process.
Learners also state that QC is a great place to start your education path and that the price is great because it is half the cost of similar two-year schools.
The professors that have worked there also give mostly positive feedback. They claim that the pay was good, and the students are very committed to learning. Also, the staff is very friendly and helpful, and both students and professors are very diverse. Among the disadvantages, the employees mentioned that they were occasionally overloaded with students. And some they that at the college there are little to no opportunities for career growth, but that is not the fault of the institution.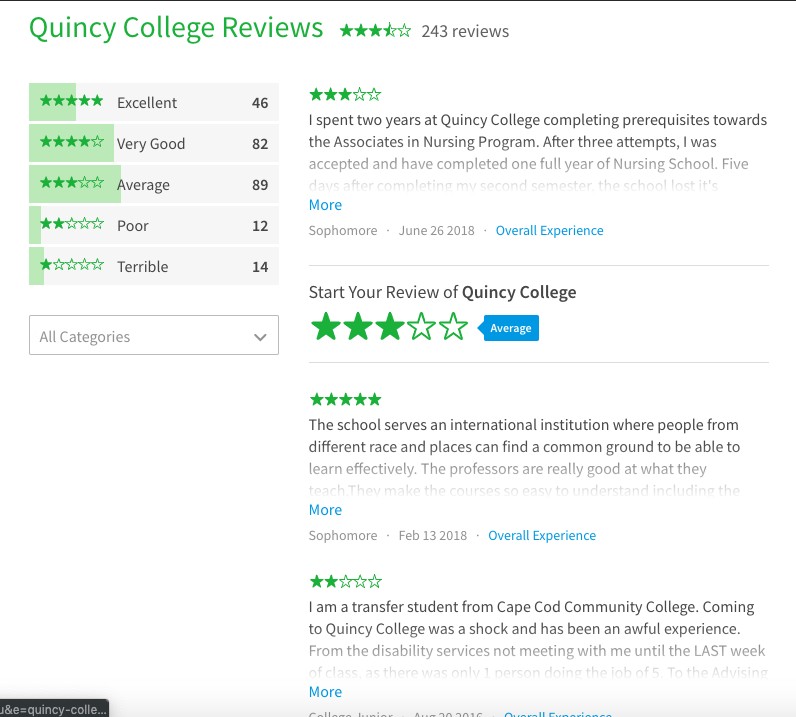 Pros and cons of Quincy College
As you know, there is nothing that can have only positive or only negative features. For that reason, we have created this pros and cons list.
Pros:
Great teachers and staff
Diverse
Not expensive, but with good education
Small classrooms
Amazing environment
Beautiful campus and is constantly being upgraded
Professors are satisfied with their pay
Cons:
Students with learning disabilities say that this school is not a good fit for them
No dorms
Parking is impossible
Almost no opportunities for career growth
Does Quincy College have a campus?
Yes, actually it has 2 campuses, one in Quincy and the other one in Plymouth. But there is no on-campus housing, which is why you must find your own accommodation. At Plymouth, you can choose to get a comprehensive learning experience in the fields of aquaculture, insurance career, physical therapist assistant and web, and mobile development. To get a degree in all of the other areas of study, you should visit the Quincy campus.
Tuition and Fees in Quincy College
Tuition in QC depends on the department and area of your study. If you are in Liberal Arts and Business – $236/credit, Fine Arts and Music – $248/credit, Computer Science and Technology – $277/credit. To get the full list of tuition and fees, contact the admissions office or fill a request form on the college website.
Also, there are scholarship opportunities for on-campus learners, online learners and military and veteran students. Moreover, you can apply for financial aid. You may be awarded federal and state grants, loans and work-study programs. Usually, students get a combination of all types of aid. If you wish to apply for a scholarship or financial aid, the myGC portal has that all covered. For additional details, you can also contact the financial aid department at Quincy College.
Conclusion
As you see, Quincy College has done everything to create a useful student portal that would present relevant up-to-date information to make the student lives a lot easier. This great website has everything, from financial aid information to fitness programs. It is necessary for every student to get registered at the portal, and it is quite clear where that necessity comes from.
Looking for your class schedule? Want to ask the admissions office a question? Need to request a transcript? Interested in what is going on on-campus? Or maybe you want to join one of the clubs but are not sure which one? Simple go to the myGC campus portal and all your questions will be answered.
If you need assistance with your log-on to the portal, contact IT through the support webpage located at the portal. Also, if you notice an incident at the college, or want to report something, you can do it via portal. There is a special tool, with the help of which you can do that.