Review on the myWSU student portal
I guess you are already familiar with what a student portal is. If not, we will give you brief information about it. Usually, student portals are the main sources of educationally related details. Students can access it by clicking on its link and logging. MyWSU portal also provides important details regarding the learning process at the university.
This database contains your financial aid and scholarship details, courses schedule, access to your WSU email account, transfer credit report, and other valuable information. Isn't it just great that only one website can have so many sources and links?
Through the myWSU website you can do the following:
Pay confirmation deposit
Read the transfer equivalency guide
Review your financial aid file
Choose a financial aid loan
View charges and payments
Check out the class schedule
Enroll in classes
See your grades
Get an unofficial transcript
That is not even the full list of things that you can do on the portal. Also, at the top of the website, there is a drop-down menu from which you can go to the applicant and student homepage.
Register and explore the powerful and amazing webpage that the university created especially for the students' needs and to make their time at WSU more easy and pleasant.

Contacts of the myWSU student portal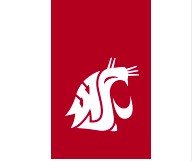 Here is a list of contact information that can be found on the myWSU student portal website:
The name of the educational institution – Washington State University
About myWSU student portal
The portal has a great and simple design. It is fairly easy to navigate through the website, but the navigation system is a bit unusual. Most of the student portals of different educational institutions have tabs on the top of the page. This portal doesn't, but instead on the main page, it has boxes, by clicking onto which you will get redirected to the information that the box presents. There are such boxes:
Academic Advising
Academic Records
Notices
Financial Account
Financial Aid
Manage Classes
Profile
Quick Links
Tasks
My Comm Center
CougarCard
Announcements
Others
Each of those boxes contains specific educationally related information. For example, under the box Manage Classes, you can view your class schedule, add classes, drop a class, view exam schedule, academic records, look through enrollment dates. Under the Profile box, you will find information on how to grant access to the portal for third parties, change your contact details, check out your student ID number.
Also, the portal has a mobile-friendly version that makes surfing the website even easier on the phone. If you are not a tech person, go to the WSU website and click on myWSU, you'll get detailed instructions on how to use the portal.
In order to use all features of myWSU, you must register and log in. If any issue arises during registration, contact the WSU Help Desk.
Program Description of Washington State University
The most famous majors of this educational institution are Business, Marketing, Journalism, Social Sciences, Phycology, and Health Professions. At WSU all programs are grouped into eleven colleges. Here is a list of colleges:
College of Agricultural, Human, and Natural Resource Sciences
College of Arts and Sciences
Carson College of Business
Edward R. Murrow College of Communication
College of Education
Voiland College of Engineering and Architecture
Elson S. Floyd College of Medicine
College of Nursing
College of Pharmacy
College of Veterinary Medicine
WSU Honors College
For a detailed description of all programs that are offered, go to the college home pages or contact the Admissions Center. If to say the number of undergraduate programs offered by the colleges together, it is 96. Also, you can choose from 80 master's programs and 64 doctoral degree programs. Moreover, the university gives an opportunity to study online. There are 12 undergraduate and 9 graduate programs to choose from. Is it your dream to do both, study and travel? If yes, this institution has more than 600 study abroad programs in over 48 countries. So, there is definitely a lot to choose from.
About Washington State University
WSU is a top research university. It has been an institution offering an excellent education for more than a century. Washington's land-grant establishment was founded in 1890.
Here are some of the facts about studying at WSU:
The university has a small student to faculty ratio – 15 to 1
It is supportive of the LGBT students
Offers fun on-campus living, more than 80% of freshmen live on-campus
Many students are civically engaged
There is a variety of activities available, more than 400 student organizations, 4 student centers, many intramural sports, and intercollegiate sports both for men and women
WSU is one of the safest colleges in the US
More than 25,000 students are enrolled in the programs full-time
The university has some of the great campus libraries. They have more than 2 million books and more than 30 thousand journals. Besides, they contain various media, maps, ebooks, archives, manuscripts. More and more sources are added annually. For more details, go to the WSU library website.
WSU offers scholarships for Washington residents, international students, non-Washington residents. You can fill out the WSU general scholarship application that will apply to over 700 scholarships of the institution. Also, a National Merit Scholarship is available. Check out the departmental scholarships offered by your college, maybe there is something suitable for you.
There are many possibilities for the student of WSU to get involved. Here, you will find people like you, with similar tastes and will learn many new things about you and your surroundings.
WSU is one of the best research universities. Here, students along with their professors resolve many complicated problems to make our lives better. Their work is done in the area of human and animal health.
Reviews for Washington State University
Many students say that their overall experience at WSU was great. The university has awesome programs. Those that had both, a full-time job, and studied full-time, said that the classes and teachers were very flexible, which made it easy for them to do both things, earn their degree and work. Professors and advisors are always willing to help you and keep you on track to earning your degree.
Some mentioned the beauty of the campus. They stated that its architecture is magnificent and that it was really easy to navigate around the campus. Moreover, the college has a lot to offer in terms of programs and extracurricular activities. It was easy to get involved in the college community. Even if you are a party person, there are some hosted fairly often. Besides, Greek Life is huge here, but if you decide not to join any sorority, there is still plenty for you to do.
Almost everybody who worked at WSU has positive feedback. They say that the benefits were great and the working time was flexible. Also, some mentioned that the work environment was friendly and there was a good understanding of school priorities. Some of the disadvantages of being employed at this university were that it is located in a small town, far from large cities and that full-time teaching opportunities were limited. Still, almost everyone recommends working at this establishment and gives a positive outlook.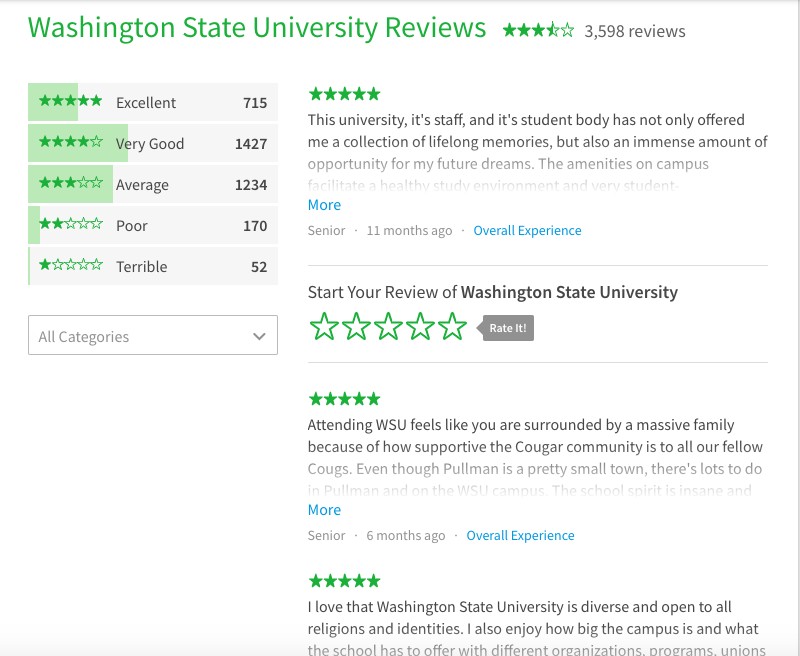 Pros and cons of Washington State University
It is next to impossible to maintain both sides, which is why we have prepared the pros and cons list of studying at WSU for you to decide:
Pros:
Many opportunities
Beautiful and safe campus
Possible to combine work and college
Nice dorms
Not very expensive when compared to other state colleges
Good food
Great benefits if employed at WSU
Strong discipline
Cons:
Not much diversity
Some people are more privileged than others
Locates at a small town
Employees must pay for parking
Does Washington State University have a campus?
Yes. Moreover, the university comprises of 11 colleges, so there are a lot of options to choose from.
Tuition and Fees at Washington State University
The tuition varies according to the place where the students are from and are based on 10-18 credits per semester. The tuition at WSU is as follows – for residents $10,510, non-residents $25,088. Also, the cost of residing at the college varies from $6,822 to $9,804 per academic year.
Conclusion
As you see, the myWSU student portal is a useful and convenient source will financial, personal and academic information. You can complete many actions and find many details on the website. Register and see for yourself. This is a great place to check out your schedule, get financial aid details, request a transcript, check out housing options, and many more.
The webpage doesn't give any information until you log in. After logging in, enjoy the powerful educational database for as long as you are studying at WSU. The portal gives up-to-date information on any aspect of your study process. Even if you get bored, and want to check out want's going on on-campus, select the Announcement section and read details about all events that are planned to happen.
Don't know how to register, log in, or maybe when you were using the portal, some kind of an issue occurred? The portal has that covered. It provides detailed instructions about what to do when something like that happens. Explore the powerful source and enjoy your time at WSU even more.