Review on the National American University Student Portal
This portal supplies information for students, faculty, and anyone interested in NAU. The site gives a huge amount of up-to-date information on the following topics:
Course registration;
Attendance records;
Final course grades;
Online classroom;
Online library;
Financial aid documents;
Useful forms;
Etc.
Moreover, from the portal, you can reach the NAU Online Library. There are many details about APA guidelines and plagiarism. This library is perfect for supporting your process of learning. It contains various books, journals, video clips, and more. If you have trouble navigating through the library, there is a great Online Library Tutorial that will help you and make it much easier to use the website.
Not only the portal gives information about courses, but also about financial aid and different documents. Also, the recent university news and events are posted there. Some additional recourses that the site provides are the Student Handbook and NAU Catalog.
If any problems arise, contact the technical support by the phone number or email provided by the portal.

Contacts of the National American University Student Portal
The following contact information is provided by the portal: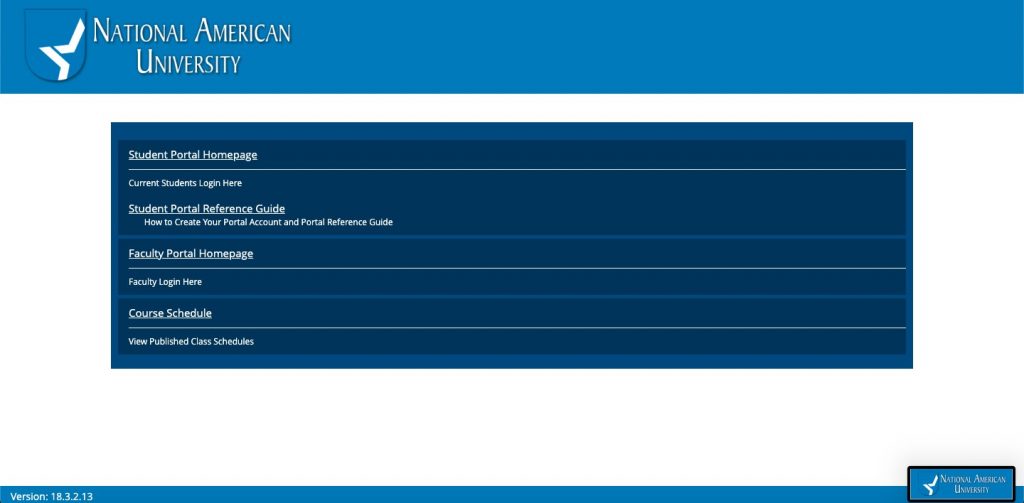 About National American University Student Portal
The website is fairly easy to navigate through and is very user-friendly. This is a service that gives as much useful information as possible to students and the faculty. You can find answers to any questions that may arise regarding classes, grades, online learning, and financial aid and get access to your personal information and many NAU services.
After completing the application process with NAU, your Student Portal account should have been automatically created. But if not, try doing it by yourself. There is a Reference Guide that gives a step by step instruction on how to create one. You'll get registered in 5 minutes. If there are any problems, just submit a help request to www.support.national.edu.
The service grants you access to many different and useful resources. All of them are conveniently located in the navigation bar on the left side of the website. If you're wondering what your course schedule is, or want to view the course offerings, all you need to do is log in to the portal, go to the My Academics tab and check up on all those things. If you are learning online, click on the link provided by the portal and easily jump to the Desire2Learn website.
Program Description of National American University
If you are wondering about the programs that NAU offers, go to the home page of the mycampus.national.edu portal and click on the Course Schedules. There you'll find a National American University Catalog with descriptions of all relevant programs.
There is a variety of them at the associate, bachelor's and master's level. If you chose to earn an associate degree, after completing it you can transfer your credits and into a bachelor's one. There is an option of completing it in one year.
NAU has the following colleges and a school that specializes in different spheres and offer various programs. They are:
College of Business, Accounting, and Technology
College of Health and Sciences
College of Legal Studies
College of Military Studies
School of Nursing
Programs are available in such areas:
Accounting
Animal Sciences
Business
Criminal Justice
Doctoral
Healthcare
Information Technology
Professional Legal Studies
Military
Also, there is a Harold D. Buckingham Graduate School that offers master's degree programs in business, management, and nursing and even a Doctor of Education Program.
If after getting your desired degree you still want to acquire more knowledge, NAU has a great Continuing Education and Professional Studies Division. It offers self-improvement courses, extensive courses in business, management, and IT.
About National American University
NAU was established in 1941 by Clarence Jacobson in Rapid City, South Dakota. Its founder began to offer courses to a class of only 13 students. At that time, it was called the National School of Business.
Nowadays, National American University is a multistate institution of higher learning. It offers associate, bachelor's, master's, and doctoral degree programs. It has the accreditation of the Higher Learning Commission. Moreover, some of the programs are additionally approved by national education.
Its main goal is to make learning possible for everyone. It presents many opportunities to help achieve the desired education. Even if you are not sure what program to choose, there is a personal advisor available that will help you make the correct choice. NAU understands how important it is to receive a proper education and that is why it offers only high-quality instructional programs and provides the best possible learning environment. This is one of the most trusted institutions that provide learners with higher education, so you should not be disappointed with it.
Reviews for National American University
Most of the reviews rate NAU as a 4 stars university. A total of 42% say that they would recommend this school.
Those students that were both working and studying said that this institution is the perfect place for them because it makes it possible to do both- work and earn a degree. Some of them had a full-time job, and say that NAU did everything possible to help. Overall, the reviews are positive and they say that NAU was everything they expected it to be. But regardless, some complaint about the faculty, that the professors do not know how to teach. But others say that they were completely satisfied with them and that they were always willing to help with anything.
Some complain that the tuition is too high. But they say that it is worth it because after graduating they got their dream jobs right away. And there is an option called Tuition Advantage that can decrease the amount of tuition. More about it is presented on the NAU webpage.
A couple of students stated the fact that they would never recommend this college to anyone. And that it was their worst experience. There was nothing that they were been satisfied with. They had problems with financial aid, disappointed with the faculty and administration.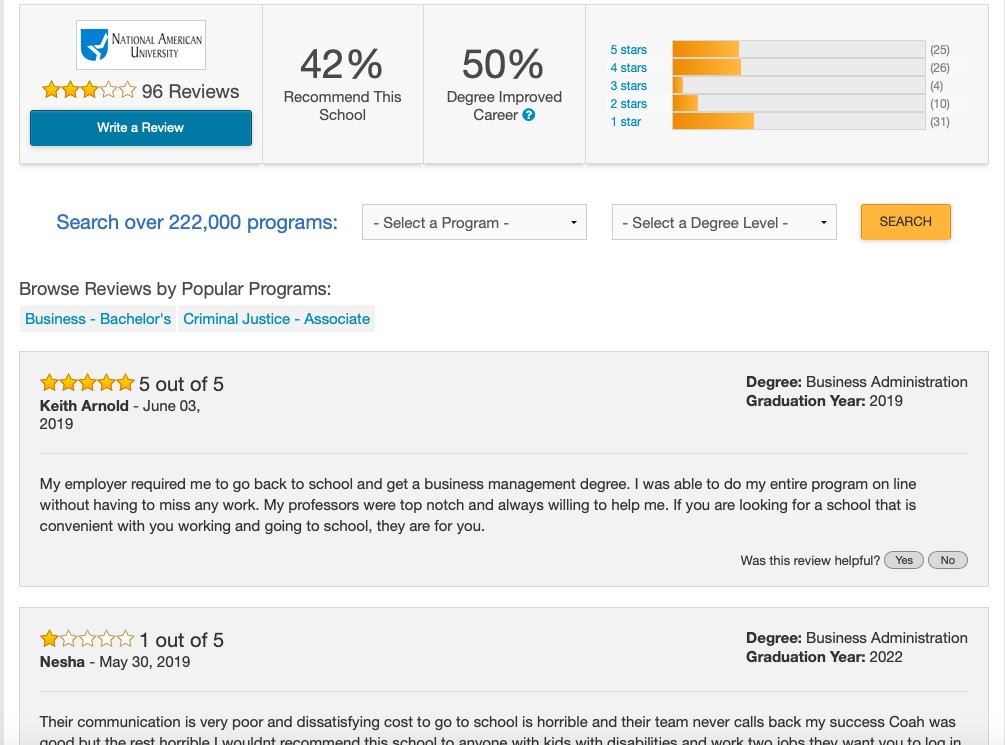 Pros and cons of National American University
It is impossible to say whether an institution is completely good or bad. So to let you choose your side, here is a list of the pros and cons.
Pros:
The opportunity to both work and study
Mane degree levels
Online courses available
Flexible schedules
Tuition Advantage
Cons:
Some complaint about professors
Cost is too high
Some had problems with financial aid
Difficult to transfer credits
Does National American University have a campus?
Yes, most of the colleges do have campuses. But there is not much information about the campus life of NAU. As it is a network of colleges, contact the one that you are interested in and ask any questions that you would like.
Tuition and Fees in National American University
Tuition varies between colleges. There is no up-to-date information on tuition and fees. A bachelor's program tuition fee per 4 years of studying is approximately $70,000. This includes technology fee but excluded books, specialty course fees.
NAU has a Tuition Advantage option. It helps you reduce the tuition rate per credit hour by taking more classes. It is possible to lower the total cost even by 37%. One more advantage of this is that you get to graduate sooner.
If you need more information, request it through the website's main page. Or contact the college that you wish to apply to and they will answer all your questions.
Conclusion
Usually, portals are huge databases that make the student life as easy as possible. This one is of no exception. The portal is the main website with all the information that a student or a faculty member may need. But not much is available to a person who is only interested to apply to NAU. It is very easy to register and log in to the portal. If any problems arise, there is always technical support to the rescue.
Get redirected to the needed section of the website by only one click on the tab. It is easy to navigate through it. The portal consists of tabs such as My Account, My Academics, Financial Aid. Click on the necessary and spot the info that you were looking for. For example, My Account tab displays all your personal information.
Do you need to find the course schedule, read a journal, find out the latest news, get access to the online classroom? Simply go to the site and read all that, and even more. You can check up on your attendance records and final grades. Moreover, the portal allows you to print out an unofficial transcript with all your records. But, there could have been more information about tuition and student life.
If you decided that you want to register at the portal, but don't know how there is a Student Portal Reference Guide on the home page of the portal with detailed instructions on how to get registered. Take your time, scroll through the portal, explore, find and read everything about NAU, and learn.